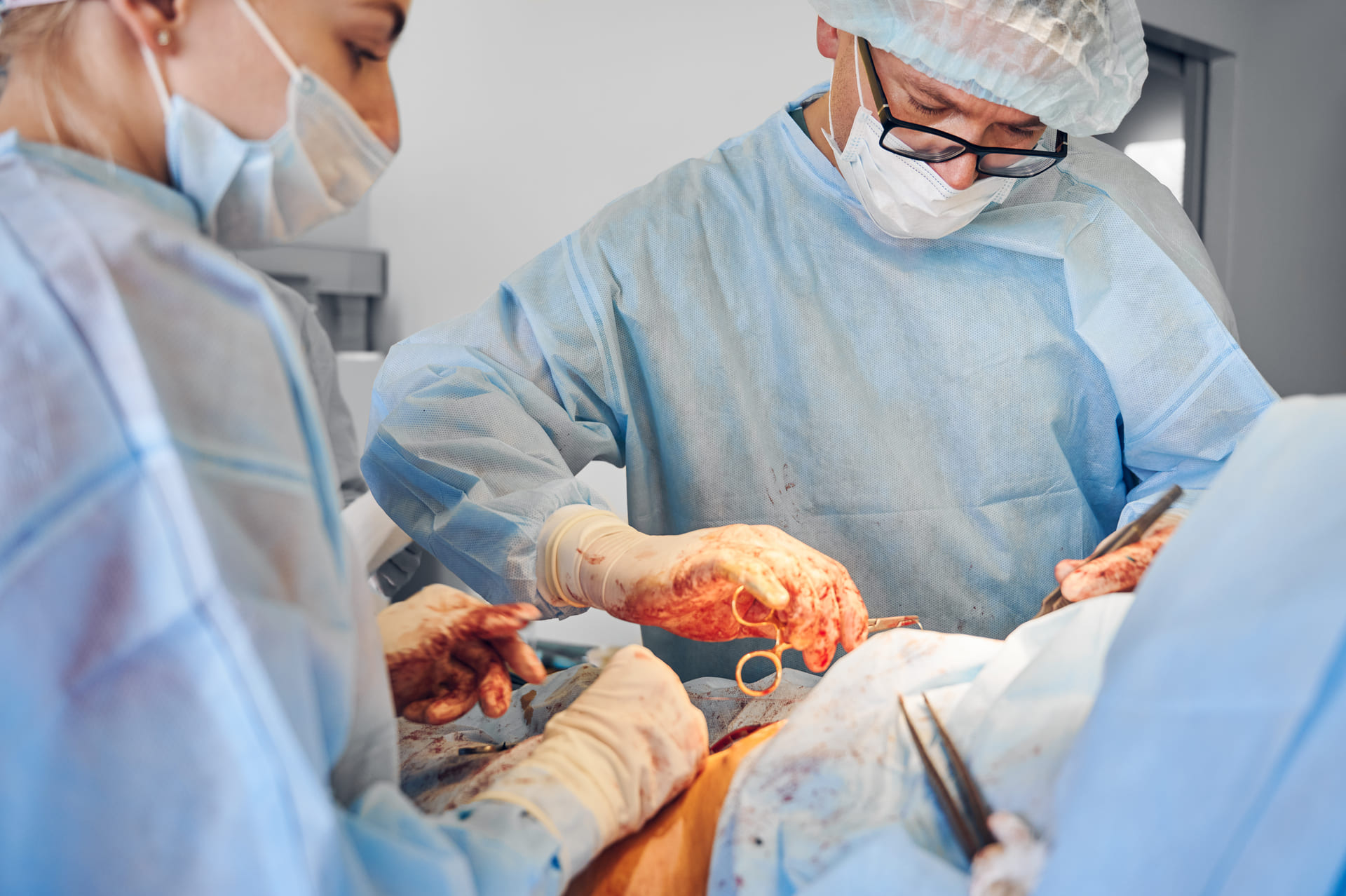 Let Us Care is one of North Cyprus' leading hospitals for weight loss or obesity surgery providing world-class treatments with its expert doctors, nurses, friendly staff, modern equipment and state-of-the-art products. We believe that treatment and understanding depend on all patients and relationships. We have brought the most advanced technology in the world, ensuring that all our services are cost-effective and result oriented. Here are a few more reasons why Let Us Care is the best choice for your Gastric Bypass or Bariatric Surgery. But first, let us understand what is Bariatric Surgery.
About Obesity Surgery
Gastric bypass surgery and other weight-loss surgeries are cumulatively known as bariatric surgery. This process involves making changes to your digestive system to help you lose weight. Bariatric surgery is performed when diet and exercise do not work or when you have serious health problems due to your excessive weight. Some of the procedures may limit the amount you can eat. Other methods work by limiting the stomach's ability to absorb nutrients. Some procedures require both.
Although obesity surgery or bariatric surgery can provide many benefits, we cannot ignore its side effects as well. Bariatric surgery is typically done only after you've tried other natural and non-invasive methods to lose weight like improving your diet and exercise habits. Always keep into consideration that any type of bariatric surgery is a major procedure that can have significant risks and side effects. Additionally, it also requires you to make permanent healthy changes to your diet and exercise regularly to ensure the long-term success of bariatric surgery.
Why is Bariatric surgery done?
Bariatric surgery is performed to help you lose excess weight and reduce the potential chances of any life-threatening weight-related health problems, including:
Type 2 diabetes
Heart disease and stroke
High blood pressure
Nonalcoholic fatty liver disease (NAFLD)
Nonalcoholic steatohepatitis (NASH)
Sleep apnea etc.
For Who it is suitable for?
In general, bariatric surgery could be an option for any obese person, if:
Your body mass index (BMI) is 40 or more (you are extremely obese).
Your BMI is between 35 and 39.9 (obese) and you have serious health problems related to weight, such as type 2 diabetes, high blood pressure, or insomnia. In some cases, you can qualify for the surgery type if your BMI is 30 to 34 and you have serious health problems due to obesity.
Treatment Options
Gastric Sleeve Surgery (Gastrectomy)
Sleeve gastrectomy, also called sleeve gastrectomy, is a bariatric surgery that removes a large part of your stomach, leaving a narrow "Sleeve" behind. Reducing a large portion of your stomach helps reduce calories and reduce hunger pangs. Surgery is offered to help people with clinical obesity lose weight effectively.
Stomach Botox
Stomach Botox is a simple and non-invasive process that provides an effective solution for obese persons and has emerged recently as one of the procedures that provide a solution to the obesity problem. In this process, an endoscope is inserted into the stomach through the mouth with the help of a camera and in modern devices. After that, the stomach muscles are injected with Botox, which causes slowing down the movement of muscles.
Gastric Balloon
An intragastric Balloon or Gastric Balloon process is also a non-surgical weight-loss process which involves the insertion of a specialized balloon inside the stomach to occupy space and limit the food-holding capacity of the stomach. This makes you limit the food intake to smaller portions as you feel full sooner. This procedure is temporary and the balloon is usually removed after a period of 6 months.
Gastric Bypass
Gastric bypass, also called Roux-en-Y (roo-en-wy) gastric bypass is a type of bariatric, or weight loss, a surgery that helps you lose weight by changing how your stomach and small intestine handle the food you eat. During gastric bypass surgery, your doctor will make changes to your stomach and small intestine to change the way they absorb and digest food. This process works by restricting the amount of food that your stomach holds, limiting the number of nutrients your body absorbs and changing your gut hormones, which help you feel fuller for a longer duration.
Mini Gastric Bypass
The Mini Gastric Bypass (MGB) is simple and reversible laparoscopic gastric bypass weight loss surgery to treat obese people by reducing the size of their stomach to facilitate early satiety. It also involves bypassing a section of your intestine to limit food absorption. It is a laparoscopic procedure so less invasive (keyhole surgery). It is recommended for people who have a high BMI that is greater than 45, are diabetics, have severe reflux or have prior gastric banding.
Why Choose Let Us Care For Gastric Bypass or Bariatric Surgery?
With the help of highly trained surgeons and medical professionals, you can plan your weight loss treatment journey. At the Let Us Care hospital, we offer a comprehensive range of obesity surgeries (both surgical and non-surgical). We will find out the causes of obesity, problems associated with it and near-zero infection possibility during surgery. This is done through our advanced technology that provides the best possible treatment solutions.
The success rate is high
The infection risk rate is close to zero
A qualified professional for your treatment
The latest and best technologies used
Let Us Care Hospital assures you of health and weight loss treatment options at affordable prices in the North Cyprus region. Here, you will get exceptional service that is reasonably priced. Contact us for more information or make a quick enquiry.
Personalised Service
Each patient is unique to us and we offer personalised service to each of them.
Long-term Support
We believe in long-term care so we keep in touch to see if everything is fine.
Specialists at Your Service
A dedicated surgeon with a highly experienced team will be at your service.
Relaxing Environment
We offer a relaxing and stress-free environment for the patients.
24x7 Communication
Our 27/7 support team is always available for communication.